Queen's Crown Dental provides Invisalign in Honolulu, HI. Call
808-526-2800
to learn more and schedule an appointment.
Invisalign® takes a modern approach to straightening teeth.
It's never too late to straighten your smile! The perfect solution for adults on the go, Invisalign® clear aligners offer a comfortable and affordable orthodontic solution without the look and feel of traditional metal braces. Invisalign® uses 3D computer graphics technology to create a series of custom-made aligners created for you and only you. These aligner trays are made of comfortable and virtually invisible clear material that you wear over your teeth.
Invisalign® clear aligners have been proven to provide an effective contemporary alternative to traditional orthodontic treatment. You can gently shift your teeth into place by wearing each set of aligners for about two weeks, removing them only to eat or clean your teeth. Being able to remove the aligners whenever you like allows you to enjoy life without restriction or inconvenience. The best part is that Invisalign® aligners are virtually invisible- so no one will ever know!

During your consultation, your Invisalign® provider will examine you and determine whether Invisalign® is a good fit for you. Please feel free to ask any questions you may have and our experienced team will be happy to assist you.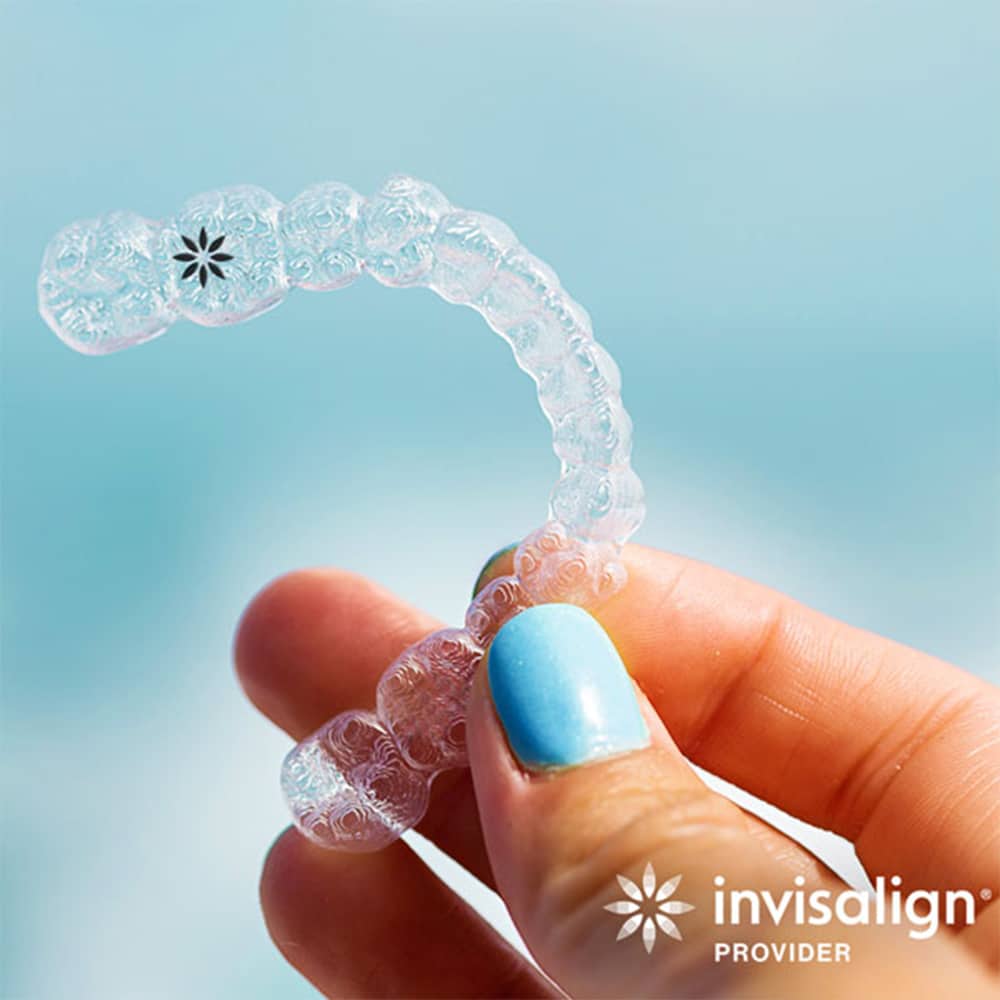 Invisalign is a teeth straightening system that uses clear plastic aligners to gently shift the teeth into proper alignment. The aligners are designed to fit snugly to your teeth in order to be virtually invisible. Invisalign can correct many common orthodontic conditions from crowding to overbites. 
Queens Crown Dental provides Invisalign in Honolulu, Hawaii. Call 808-526-2800 or contact us today to schedule an appointment.
Invisalign offers many benefits: 
Discreet.

The clear aligners are virtually invisible on your teeth, allowing you to straighten your teeth discreetly without the metallic look of traditional braces. 
Comfortable.

The smooth, flexible plastic of the aligners makes them comfortable. They won't irritate your cheeks, lips, or tongue. They also shift your teeth gradually and gently to minimize discomfort. 
Convenient.

Invisalign is convenient in a variety of ways. The aligners are removable, making them easy to clean and allowing you to eat what you want. You can take them out to clean your teeth so you can brush and floss the same way you did before without the need for any special tools. 
Fast results.

Invisalign takes less time on average to complete your orthodontic treatment than braces. You can expect results in 6-18 months, whereas braces often take 12-24 months. 
The Invisalign process consists of the following steps: 
Consultation and evaluation.

The first step is always a consultation and evaluation to determine whether or not Invisalign is right for you. If you are an ideal candidate for Invisalign, you'll move on to the next step. 
Designing your treatment plan.

Digital images and impressions will be made of your teeth. The Invisalign software uses these images to design your treatment plan. 
Creating your aligners.

The complete set of aligners you will need for your entire treatment are created in a lab and sent back to our office. We will contact you when they arrive to schedule your first fitting. 
Wearing your aligners with periodic monitoring.

You will be given your aligners and instructed on how to wear them. Most patients wear each aligner for 2 weeks before switching to the next in order. You will need to come in for occasional monitoring every few months to make sure the aligners are working properly. 
Retention.

When you have completed your treatment you will need to wear retainers in order to keep your teeth in their new position while they settle into place. You'll wear your retainers all the time for a while, and then just at night. 
Are You a Good Candidate for Invisalign?

Most patients with common orthodontic issues are good candidates for Invisalign. Invisalign can treat crowding, crooked teeth, gaps between teeth, overbite, underbite, crossbite, open bite, and more. However, some patients may have more severe orthodontic needs that will require braces or other appliances. We can perform a simple evaluation to determine whether or not Invisalign would be effective for you. 
Why Choose Queens Crown Dental?

We provide Invisalign for the convenience of our patients. It allows us to treat minor orthodontic issues without referring you to an orthodontist. Dentists can offer Invisalign because the computer software is the expert in this case; an orthodontic specialist is not necessary. As a patient of ours, you can even combine some of your Invisalign monitoring appointments with your routine teeth cleanings to minimize your trips to our office. 
Frequently Asked Questions

Why can't Invisalign work for everyone? 
Unfortunately there are some orthodontic conditions that are too complex for Invisalign to correct. Braces are a bit more versatile and are capable of exerting greater force on the teeth to shift them into proper alignment. But Invisalign does work for most common orthodontic issues. 
Is Invisalign covered by insurance?
If your dental insurance covers orthodontics, Invisalign should qualify. Most insurance plans offer a one time lump sum amount toward orthodontic care for each person covered by the plan. We are happy to work with your insurance company to submit your claim. 
What happens if I lose one of my aligners?
Of course this happens to patients from time to time, and there's no need to worry. We recommend wearing the previous aligner to the one that was lost and give us a call. We will order you a replacement aligner and contact you as soon as it comes in. It may delay your treatment by a few weeks at the most. Always store your aligners in the case provided when you're not wearing them to avoid loss or damage. 
How often do I need to wear my aligners?
For your treatment to be effective, we recommend wearing your aligners for 22 hours a day. You should only take them out to eat and to clean your teeth and aligners. If you don't wear them enough, you may not be ready to switch to the next aligner in the normal 2 week period and your overall treatment time may be longer.
To learn more, call 808-526-2800 or contact us today to schedule an appointment.