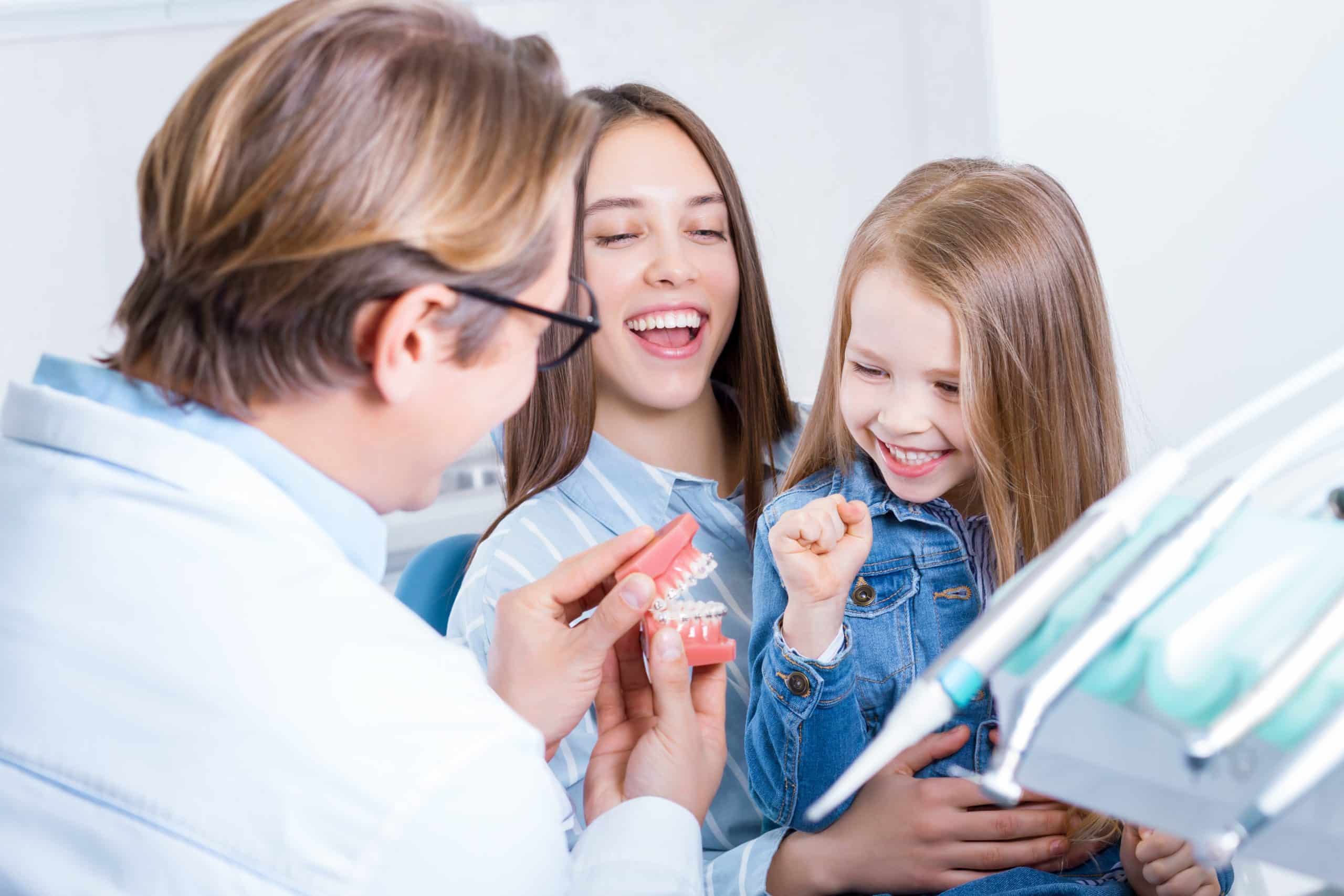 Queen's Crown Dental provides family dentistry in Honolulu, HI. Call
808-526-2800
to learn more and schedule an appointment.
What is Family Dentistry?

Family dentistry refers to dental practices that treat patients of all ages from children through adults. We provide comprehensive dental services for infants, children, teens, young adults, middle aged adults, and older adults. 
Benefits of Family Dentistry

Family dentistry offers a variety of benefits: 
Convenience.

It saves time and money when you can take the whole family to the same dental practice. Instead of making separate appointments at different locations, you can take everyone to get their teeth cleaned together. 
Family friendly.

Family dental practices are family friendly, establishing a good rapport with children as well as adults and welcoming everyone. 
Build a lifelong relationship.

When children visit a family practice there is no need to transition to an adult dentist from a pediatric dentist at a certain age. They can build a strong relationship with the dentists and staff at one practice throughout their lifetime. 
Easy access to dental history.

Dentists can provide better care for their patients when they can access their full dental history, which is easier when they have been a patient at the same practice over time. 
Parents set a good example for their children.

When the family goes to the dentist together, children can see their parents receiving dental care and understand the importance of lifelong dental health.
We provide the following dental services for families: 
Oral examinations.

An oral examination is an inspection of the mouth, head, and neck to identify any abnormalities that may need to be addressed. X-Ray images will be taken periodically to detect cavities or problems below the gum line. 
Dental cleanings.

A thorough dental cleaning removes plaque and calculus from the teeth with special tools. The teeth are also flossed and polished to a smooth shine. 
Dental sealants.

Dental sealants consist of a tooth colored resin that is applied to teeth to fill crevices and provide an even surface that is resistant to decay. 
Fluoride treatment.

Fluoride is a mineral that strengthens tooth enamel. Fluoride treatments can be applied in the form of gel, foam, or varnish. 
Custom oral appliances.

Custom oral appliances serve a variety of dental purposes, including protecting the teeth during sports, preventing damage from teeth grinding, and treating snoring and sleep apnea. Appliances are custom made to fit your teeth comfortably. 
Scaling and root planing.

Scaling and root planing are two procedures that are performed together to treat and prevent gum disease. Scaling involves the removal of plaque and calculus from below the gum line and root planing smooths the surface of the roots to eliminate spaces between the gums and roots where plaque can gather. 
Why Choose Queens Crown Dental?

We are a family dental practice, providing quality dental services for patients of all ages. You can bring the whole family to Queens Crown Dental for regular dental care. Conveniently located in Queens Medical Center, we are central to the community of Honolulu, allowing us to service many families in the area. We treat each patient as an individual, taking the time to get to know you and talk to you about your dental needs and goals in order to create an efficient and effective plan for treatment. Our practice has a family feel where patients of all ages are welcome and comfortable.
Frequently Asked Questions

Do both children and adults need teeth cleanings and exams at the same frequency?
Conveniently, both children and adults should have regular teeth cleanings and oral exams every 6 months, allowing you to make one appointment for everyone at the same time. Only in certain circumstances will a patient require more frequent appointments. 
How can I teach my children good oral hygiene habits?
The best way to teach good oral hygiene habits is to model them yourself. Make sure you are brushing your teeth twice a day and flossing once a day and that your children see you do this. Brush together even if you don't share a bathroom. Help your children when they are younger until they can effectively take care of their teeth independently. 
Is it worth it to fill cavities in baby teeth?
Even though baby teeth do eventually fall out, if there is a cavity in a tooth that is not ready to come out yet, it should be filled. When cavities get deep enough they can become painful and lead to a tooth infection. Plaque can gather in an unfilled cavity and spread to the nearby teeth and gums. A simple filling can prevent many dental problems. 
When should my child have their first dental appointment?
The American Dental Association and the American Academy of Pediatrics recommend that children have a dental examination by their first birthday or within 6 months of the eruption of their first tooth. If your child is already older than one year, don't be concerned. It's never too late to start receiving dental care.
To learn more, call 808-526-2800 or contact us today to schedule an appointment.